Top Tips on Food and Flowers for your Big Day
Decide on your dinner vibe
Will you have a formal seated dinner, or a more casual atmosphere? Would you like a buffet or plated service? Are you looking for dinner service only, or would you like appetizers included as well? Are there particular dishes you have in mind to serve? These are all the sorts of things to consider when choosing the food for your wedding and therefore your caterer. However you can ask your caterer for guidance as well, but do consider the above questions before you meet with them. Think about other weddings that you have also been too and what you liked or didn't liked about their food service.
Organise a taste-test
Once you have decided on your vibe and a basic menu, ask your venue/caterer if you can arrange a taste test. Generally there is a cost for this but it is a great way to make sure you have made the right decision and actually get some quality time with your spouse to be over a romantic dinner for two while you take a breather from all the crazy planning. You can ask them to serve a couple of options as well, if, for example, you are battling to choose between 2 different main dishes or 4 different desserts.
Buffet or plated
There is a difference in cost here so consider this when looking at your budget. However, also consider the vibe you are going for. Plated can give a more elegant and formal air to your wedding so if this is the "theme" you have chosen, then stick to it if you can. Buffet is also a good option and does give a more casual and relaxed vibe to the eating scenario. Guests can also pop up for seconds if they like and generally when people are having a good time, the more they eat and drink, the more they will be merry.
Special Dietary Requirements and meals for kids
You are bound to have one person come to your wedding who has to watch what they eat, whether it be a fish allergy, gluten intolerance, halaal or a personal choice of veganism. They need to be catered for as well. This can be easily done by letting them know in your invite who to contact with their special dietary requirements. Be sure to give them a deadline for this though, as you have a lot going on planning your special day. And when it comes to kids, if they are under the age of 13 they will surely have a smaller plate of food or their own selection which would affect the cost, so look into these options as well and possibly consider a separate kids menu, depending on the number of children attending your wedding.
Work with a budget
Flowers are not cheap, whether real or artificial. Carefully calculate your budget for your flowers. This might be hugely important to you and you would like flowers everywhere so you will want to spend a fair amount. Or, maybe this is not your vibe, and you would like less flowers and a more low key feel to your wedding, so then your budget for this will be smaller.
Do your research
Consider what is in season when you are getting married. Flowers that are OUT of season are not only difficult to find but will be much more expensive than if you stick with what is in season at the time. Your florist will know and be able to guide you here.
Choosing your style
Think about the style of your wedding, look at Pinterest, Instagram and bridal magazines to find things that you like and what vibe/style/theme you would like to go for. Whether it be vintage, casual, natural, forest, elegant….the list goes on, there are SO many ideas out there but find what you like most. Also consider whether you would like fresh or artificial flowers, there are pros and cons to both.
Faux or fresh
Pros and Cons to Faux Flowers:
Pros:
Available all year around
Highly durable so will last for years to come
Allergen free so no need to worry about anyone sneezing
Easy to transport and can be set up a few days before the event
Cons:
May not look real up close
Unscented if you would prefer the natural perfume
Depending on material, can be more expensive
Faux or fresh
Pros and Cons of Fresh Flowers:
Pros:
More authentic
Delicate and unique
Naturally fragrant
Cons:
Easily damaged
Wilt quickly
Can only be made up on the day
Great tips on how to choose your bridesmaids and groomsmen
Choosing bridesmaids and groomsmen can be quite challenging, right?! Take a look at these practical and refreshing thoughts on the subject. It all boils down to one thing – in a wedding, as in real life, nice dependable people make all the difference. And 10 years from now, when you're looking through your wedding album, you'll want to have that warm fuzzy feeling inside when you look at the bridesmaids and groomsmen standing next to you… not thinking, 'I wish I never asked them!' So, here are our 10 terrific tips for choosing bridesmaids and groomsmen.
Don't ask everyone you know!
Try as hard as you can not to get too caught up in all the excitement. As this might lead to you asking everyone you know and then you spend your entire budget on your bridal party. Take a deep breath and consider everyone who comes to mind carefully. Even make a list of pros and cons if you need too, just to narrow it down to exactly who is important to you. Neither of you want to be caught in a situation where you have to 'fire' someone. This will cause months or years of hostility and awkwardness. Needless to say, very hurt feelings. So don't take this decision lightly.
What do you want from your bridal party?
Think about what you actually want your bridal party to do. Do you just want them to rock up, looking pretty, on the day or do you want tasks to be carried out. If you are looking at the latter, then consider assigning the tasks yourself, but keep everyone's individual personalities in mind. This is so you can trust that the task will actually be done and done well. The bonus is that the person doing it for you will enjoy it. These can be things like shopping for décor, dress and suit fittings, invitation making, decision making, cake tasting, venue viewing and so much more.
Consider your budget
If your budget is unlimited, then go ahead and skip ahead. If it isn't – get the calculator. The bigger the bridal party, the more expensive it will be. The usual spend is dresses, suit hire, flowers and boutonnieres, plus hair and makeup for the girls. On top of that, there are other expenses, like arranging transportation, accommodation, and whiskey and cigars for the guys. If you have three bridesmaids, they'll fit in one car. If you have seven, you're now paying for two cars. Double that for a large party of groomsmen. In addition, it's customary to give gifts to everyone. You could be buying seven gifts… or 14. Are you getting the picture of how easily the costs could add up? Be smart with your money – weddings are expensive, no matter how big or small you plan them.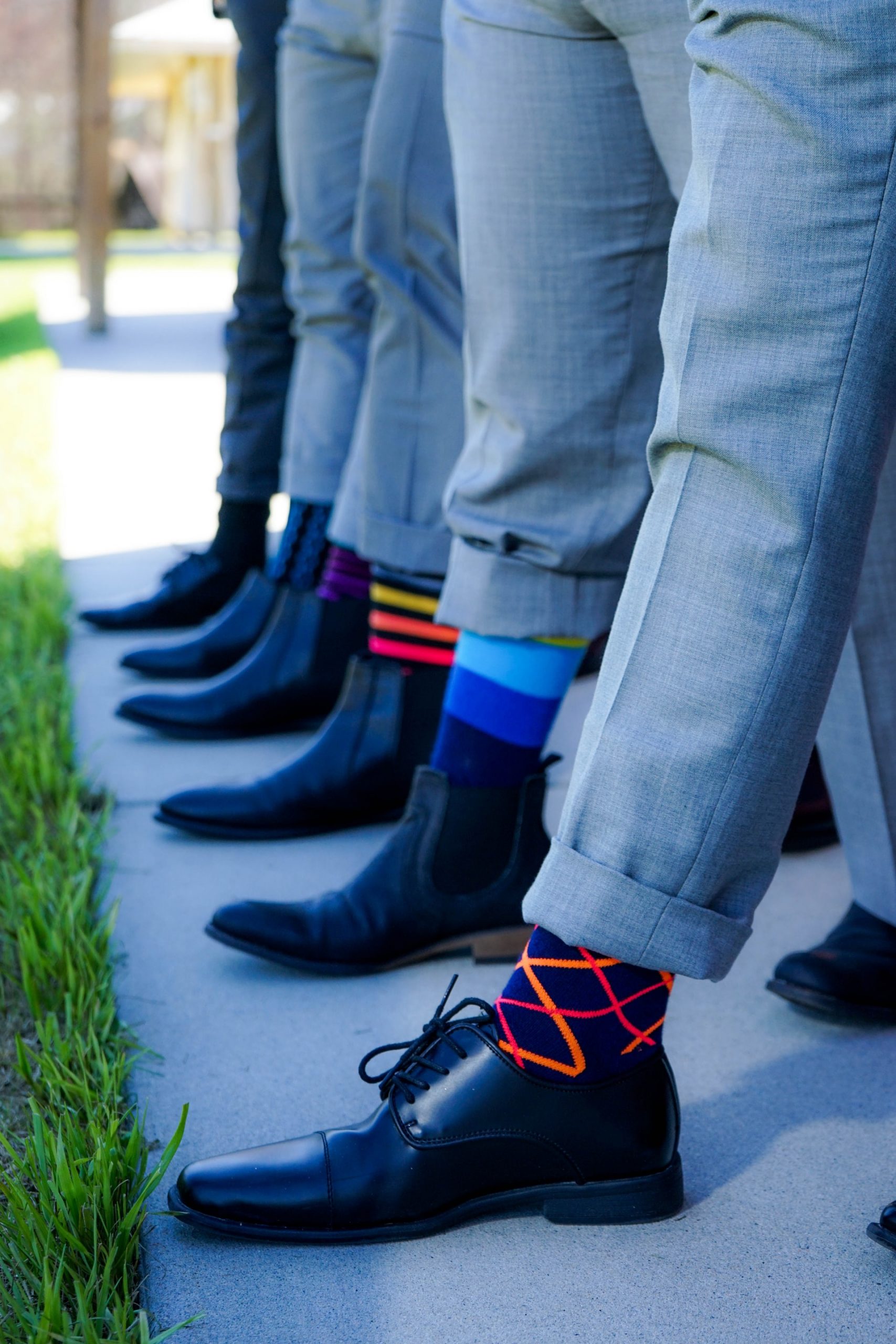 Long distance bridal parties
It happens a lot nowadays – the only person worthy of being a maid of honour or best man lives in another city, another country, or even another continent. You could have a MOH who lives in Canada. Now, consider the challenges, the time difference, the excessive emailing, calling, texting ideas and considerations, how do you do a dress fitting, a suit fitting, how do they plan your hen or stag night?!?! It can be done, but can also be difficult, for them and for you. So either, they keep the title but you tell them they don't need to do anything as it is difficult being so far away or maybe you don't include them in a 'position of power' and explain to them you want them to be, but they can't do anything, OR your patience levels just have to grow exponentially to accommodate a lot of drawn out decision making.
The groomsmen
Has the groom picked his guys yet? He'll be needing some dependable people by his side too. His best mate may be a winner in all the guy things they do together, but… is he also a prankster who'll make the stag party as humiliating as possible? And shave off his eyebrows? Give your guy a gentle nudge about who to ask. He'll need a real friend to give him a hand – someone who'll return the suits on time on his behalf. Someone who'll call the limo company when they're late for church. You know what we're talking about – upstanding citizens of the male population, not just barely upstanding citizens propping up the bar.
Remember there aren't rules.
Call him the man of honour and her the best woman. Guys can stand with the bride and women can stand with the groom. It's really up to you—what's most important is you include your favourite people, regardless of gender.
There are no hard-and-fast rules about how to dress them. You can dress your grooms women in tuxedos or dresses and your brides men can look just like the groomsmen or they can match their suits to the bridesmaid dresses. Just make sure they're comfortable with whatever you want them to wear.
Don't ask someone just because they asked you.
Weddings are no time for quid pro quo. You don't need to ask someone to be in your wedding because they asked you to be in their wedding. Don't ask the college roommate you haven't spoken to in five years just to return the favour.
If they want to talk to you about why they aren't in your wedding, be completely honest. Explain that it was a tough decision but you really felt like you should have the people you feel closest to at this point in your life standing up for you, and there are so many of those people (including him or her) that you had to leave out some very special ones.
Research other roles.
You might need ushers to lead the guests to their seats at the ceremony, plus a few people to light candles and distribute programs. But there are a lot of other options as well. Maybe you have a musically inclined friend who would love to play something at the reception. Or what about that friend who is an amazing writer? Have them write a poem or meaningful message to share at your ceremony.
Think twice before offering your friends obscure, not-so-needed positions, like guest book attendant. (Would you want to do that?) Most people would be happier with a VIP corsage and a reserved seat at the ceremony.
Kids aren't required.
If there aren't any children either of you feel particularly close to, you don't need a flower girl and/or ring bearer. And if you have many children you want to include, feel free. Have three little flower girls instead of one and give them each their own basket of flower petals (boys might enjoy throwing flower petals too!). Or have your two little ones walk down the aisle as pages. They can bear the ring, hold a keepsake or carry a "Here Comes the Bride" sign.
Having an adults-only wedding? You can still have kids play their roles at the ceremony and not allow them at the reception. If you do that, consider setting up a room for kids with a babysitter during the reception and have some fun foods and activities planned.
Get that checklist
Find a detailed wedding checklist – something you'll be using a lot for the next few months. Does it look like a big job? Maybe, but you don't have to do it all yourself! Read the list like a boss and ask yourself – what can you delegate to other people? And more importantly, can you count on your bridal party to help you with these things? Being in the bridal party means much more than just looking pretty. In fact, there are quite a few things the bridesmaids and groomsman could do for you on the day itself. So when you see plainly in front of you what needs to be done, you'll get how important it is to have helpful and dependable people by your side.
Most importantly though, do not forget to have fun. Not only on your wedding day, but during the planning process as well. The day is about bringing people together in love and harmony to celebrate this big and beautiful commitment that you have decided to take. We wish you all the best for your special day!
Extracts taken from weddingsonline blog and theknot.com
Top tips on planning your wedding
Planning your own wedding is difficult, and emotions tend to get in the way of good judgement and decisions . There is no magical formula or exact science. At Buhle Estate we have many years of professional experience, we would like to share a list of our top 10 tips of don'ts
Here they are:
Don't think that you are going to create something better than anyone else

Don't arrange your own flowers or bake your own cake. There are too many things for you to do on your special day, what is something you do with ease on any normal day just tips the scales on your wedding day ends up being a disaster

Don't hire a family member to be your photographer or any other service provider for that matter, 9 times out of 10 it ends in tears, or a row. It is way easier when paying someone to give instructions

Don't ask too many people for their opinions, they bring their own personal choices into the equation and you lose focus of your own style.

Don't be obligated to choose your bridal party or guest list on previous invitations, just because you were bridesmaid or invited by a cousin to a wedding , does not mean you have to reciprocate, circumstance is very personal

Don't rely on the weather to be perfect, it does not make or break a wedding. Always have back up plans. It's the one thing you have no control over.

Don't follow trends and fashion, be true to yourself and create a day that epitomises who you are.

Don't forget to hydrate & eat, the day is long, adrenalin runs high, you need to keep your mood and energy going. Water and healthy snacks are not going to split the seams on your outfit, but your sugar levels will be stable and you will have an amazing day.

Don't try to control everyone and everything. Just breathe……..and let the day run its path. Worrying will create stress, stress uses energy, the day will flash past in a blur and you won't remember a thing. Choose your help wisely, then let go.

There is nothing greater than love and commitment, don't try t make the day anything bigger than that, after all that is what the rest of your life together is all about.
Buhle Country Estate
Farm 10 of Kensington,
Bishopstowe
Pietermaritzburg, 3201
033 004 0049 | 072 807 3907