8 Wedding Tips for a Global Pandemic
With the world experiencing an unprecedented global pandemic, a lot of couples have been faced with the challenge of either cancelling or postponing their weddings. And sadly this continues. This is a dreadful reality facing brides who spent so many months working hard to plan their weddings.
The current situation is not only out of our hands but is completely exceptional for everyone including wedding vendors and services. With the health and financial toll of the crisis, it is difficult to predict what might happen next.
Amidst this uncertainty and chaos, we would like to provide some guidelines and tips to help you and other brides overcome some of these challenges and perhaps inspire you to get creative while sharing the joy with your loved ones. 
Here are some wedding planning tips for you:
Acknowledge your feelings
It is normal to feel sad and be disappointed! Despite what is happening in the world, it is important to acknowledge your feelings and voice them out to your loved ones to help you cope with and think clearly. 
TIP: Connect with other brides on social media and see how they are coping with the challenges. You will be amazed how inspired you might be with all brides facing similar issues!
Talk to your vendors
Talk to your wedding vendors and discuss with them the best course of action regarding the services they are providing. Most of your wedding vendors should be flexible in moving the date for with little or no added cost. Keep in mind that your wedding vendors are possibly small business owners and are likely impacted by the current situation as well, so be ready with some flexible options.
TIP: Hire a professional wedding planner (if you don't already have one) to help you create and navigate a roadmap for your alternate wedding date.
Keep it Small and Simple
Given the current situation, it is best to try and keep your wedding reception simple and short, with guest lists possibly limited to immediate family and close friends (remember to adhere to WHO guidelines for social distancing measures enacted in your country). 
If you are planning a destination wedding then do not decide on another date right away, instead, it is best to wait a couple of months till you get clear information on travel restrictions, especially as the rules continuously change over the next couple of months. 
TIP: If you have already obtained your marriage license, you may consider having your wedding party in your own backyard where you can experience all the joy and excitement of your wedding day in the comfort of your own home.
Find Alternatives for the Gown
You need to keep in mind that most of the bridal gowns and bridesmaids' dresses are manufactured overseas and therefore a lot of boutiques and bridal shops will have delayed shipments now.
It would be a good idea to order your dress way ahead of time, we are talking 16-24 weeks prior to the wedding time.
Local bridal shops on the other hand, whose designers are mostly locally based, are not experiencing such delays (though there might be some challenges to deliver materials on time).
TIP: Browse online bridal boutiques in your area to see what they have in stores and perhaps book a gown that you like as a backup dress. That way in case your dream wedding dress does not come in time, you can still end up with a beautiful gown for your big day.
Opt for Non Floral Bouquets
With lots of anticipated wedding cancellations, the next available date for your wedding may not be in season for your choice of wedding flowers for your wedding bouquets.
In this case, it might be a better idea to search for alternative ways to get your wedding bouquets either by selecting your second option for flowers or setting a later date when your choice of flowers would be available. Or think completely outside the box of making up bouquets of fake flowers, silk flowers, brooches, etc.
DIY Whenever you can
Many of us are burdened by the crisis financially with some losing their jobs and others enduring huge pay cuts. Wedding costs can really rack up during this time especially with many wedding vendors not being able to provide their services for the time being.
However, "Time" can be your best friend now! You can use the extra time to DIY some of the wedding aspects yourself. That way you can reduce some of the wedding costs and have back-ups in case your wedding vendors face delays or interruption.
Some of us might still be quarantined at home or just have more time on our hands as we are not going out as often, this could be an opportunity to get your family members to participate and help create your wedding DIYs with a personal touch while spending quality time with each other!
REMEMBER that you are together!
Finally, remind yourself to stay calm, flexible and remember the most important thing! Marrying the person you love!
You are both in this together! This hard time will pass but the memory of your day will stay with you forever! So find a way to celebrate and enjoy it!
Credit: TJBliss.com
14 Tips for a Summer Wedding
Keep everyone hydrated 
Having decorative jugs of fruit infused iced water available when guests arrive for your outdoor ceremony is not only a nice touch, but some fruit such as watermelon help reduce body temperature and will help settle guests on a hot and muggy day.  Make sure to have cold refreshments available for your suppliers too, your photographer will thank you!
Choose the right outfit 
It doesn't matter if you're the bride, part of the bridal party or a guest, most of us tend to get hot and bothered in the heat so definitely choose something appropriate for a wedding and the heat – light and airy versus heavily structured clothing will help keep you cool. This might be a bit trickier for the men, but there are some good options out there, look at material types, and if it is a more casual summer wedding then you can get away with some smart shorts, a short sleeve button up shirt and a bow tie.
Keep guests cool and protected 
Parasols and baskets of hand-held fans are a nice touch to help keep guests and your bridal party cool.  Hand-held fans with details of your wedding day printed on them are a great reminder of your wedding day and are perfect for doubling-up as wedding favours too. You can even have mini sunscreens and sunglasses too, keeping your guests safe from sunburn while outdoors and taking away the harsh glare, especially if they forgot their sunglasses.
Wear your hair up
Choosing a hairstyle that takes your hair off your neck and forehead not only helps keep you cool but also helps you to avoid a wind-swept look in photos. Again, this is easier for men, as most of them have short hair anyway, however, the man bun or a neat ponytail can still be quite fashionable and trendy with your outfit.
Think about the seating 
Consider your chairs carefully for your outdoor ceremony as certain kinds of metal or wooden chairs may get extra hot in the sun, and nobody wants burns on their bottoms or leg.  Don't forget to include fabric cushions in your budget (unless they are already included in the venue hire) to avoid this when guests take their seat.
Remind/warn your guests 
Some of your guests might be travelling from far and are not use to the relentless South African sun…also, sometimes, even as South Africans, we forget how harsh it can be. So add a little note in your invitation to remind folks that if it is a hot day, to wear sunscreen, bring their sunglasses and wear a hat if it fits the occasion.
Remind/warn your guests 
Some of your guests might be travelling from far and are not use to the relentless South African sun…also, sometimes, even as South Africans, we forget how harsh it can be. So add a little note in your invitation to remind folks that if it is a hot day, to wear sunscreen, bring their sunglasses and wear a hat if it fits the occasion.
Frozen treats 
Serving frozen ice lollies during your drinks reception is a great way to keep guests cool and is a bit of fun for your guests too. Make tasty, fruity cocktails with lots of ice.
Serve lighter, seasonal dishes 
Instead of a heavy meal think about serving grazing platters filled with seasonal and fresh ingredients.  An ice cream van is a great addition too for dessert and sweet treats.
Always have a back-up plan 
It might be summer but the weather can be unpredictable so make sure you have a wet weather plan, just in case thunderstorms threaten to ruin your day! Most venues who offer an outdoor option, offer an indoor one as well so arrange this with them beforehand and also think about umbrellas for you and your guests. Keep a close eye on the weather forecast leading up to your big day.
Beware the Make-Up Melt
Avoid the liquid foundation, liquid eyeliner and liquid blush, this will all be sweated off within seconds. Anything powder based is your friend, along with water-proof mascara, for sweat and tears. And do not forget the finishing spray. Chat to your make-up artist about all of these options in advance.
Skip the caffeine
As much as we love our morning coffee, and we very well might need it on the morning of our wedding, rather start your day with water or an iced coffee so that you start your day cool, And hydrate throughout the day to keep yourself hydrated and from over-heating.
Pack the Essentials
Baby powder for under your arms when you are fresh out of the shower and sprinkle throughout the day to absorb moisture and odor, peppermint spray for keeping cool, as it evaporates form your skin, so will the heat. And deodorant wipes, just something good to keep in case you suddenly feel you need them.
Eat/Serve Dessert inside
Bugs and insects are attracted to sweet foods and smells. If your dessert is served outside, you may be munching on night-time knats as well as cake. So an inside serving of dessert would be better. If you have a slightly informal setting for eating, then people can grab their cake and take it outside to sit and socialise.
Create DIY water misters
Skip renting giant misters that will make your wedding venue look like it's a water park and instead create DIY mini water misters that you can put under each chair during the reception. Get mini mister bottles and print labels for each bottle so guests know when and how to use it. Just another special little touch for your wedding day.
Top Tips on Food and Flowers for your Big Day
Decide on your dinner vibe
Will you have a formal seated dinner, or a more casual atmosphere? Would you like a buffet or plated service? Are you looking for dinner service only, or would you like appetizers included as well? Are there particular dishes you have in mind to serve? These are all the sorts of things to consider when choosing the food for your wedding and therefore your caterer. However you can ask your caterer for guidance as well, but do consider the above questions before you meet with them. Think about other weddings that you have also been too and what you liked or didn't liked about their food service.
Organise a taste-test
Once you have decided on your vibe and a basic menu, ask your venue/caterer if you can arrange a taste test. Generally there is a cost for this but it is a great way to make sure you have made the right decision and actually get some quality time with your spouse to be over a romantic dinner for two while you take a breather from all the crazy planning. You can ask them to serve a couple of options as well, if, for example, you are battling to choose between 2 different main dishes or 4 different desserts.
Buffet or plated
There is a difference in cost here so consider this when looking at your budget. However, also consider the vibe you are going for. Plated can give a more elegant and formal air to your wedding so if this is the "theme" you have chosen, then stick to it if you can. Buffet is also a good option and does give a more casual and relaxed vibe to the eating scenario. Guests can also pop up for seconds if they like and generally when people are having a good time, the more they eat and drink, the more they will be merry.
Special Dietary Requirements and meals for kids
You are bound to have one person come to your wedding who has to watch what they eat, whether it be a fish allergy, gluten intolerance, halaal or a personal choice of veganism. They need to be catered for as well. This can be easily done by letting them know in your invite who to contact with their special dietary requirements. Be sure to give them a deadline for this though, as you have a lot going on planning your special day. And when it comes to kids, if they are under the age of 13 they will surely have a smaller plate of food or their own selection which would affect the cost, so look into these options as well and possibly consider a separate kids menu, depending on the number of children attending your wedding.
Work with a budget
Flowers are not cheap, whether real or artificial. Carefully calculate your budget for your flowers. This might be hugely important to you and you would like flowers everywhere so you will want to spend a fair amount. Or, maybe this is not your vibe, and you would like less flowers and a more low key feel to your wedding, so then your budget for this will be smaller.
Do your research
Consider what is in season when you are getting married. Flowers that are OUT of season are not only difficult to find but will be much more expensive than if you stick with what is in season at the time. Your florist will know and be able to guide you here.
Choosing your style
Think about the style of your wedding, look at Pinterest, Instagram and bridal magazines to find things that you like and what vibe/style/theme you would like to go for. Whether it be vintage, casual, natural, forest, elegant….the list goes on, there are SO many ideas out there but find what you like most. Also consider whether you would like fresh or artificial flowers, there are pros and cons to both.
Faux or fresh
Pros and Cons to Faux Flowers:
Pros:
Available all year around
Highly durable so will last for years to come
Allergen free so no need to worry about anyone sneezing
Easy to transport and can be set up a few days before the event
Cons:
May not look real up close
Unscented if you would prefer the natural perfume
Depending on material, can be more expensive
Faux or fresh
Pros and Cons of Fresh Flowers:
Pros:
More authentic
Delicate and unique
Naturally fragrant
Cons:
Easily damaged
Wilt quickly
Can only be made up on the day
Great tips on how to choose your bridesmaids and groomsmen
Choosing bridesmaids and groomsmen can be quite challenging, right?! Take a look at these practical and refreshing thoughts on the subject. It all boils down to one thing – in a wedding, as in real life, nice dependable people make all the difference. And 10 years from now, when you're looking through your wedding album, you'll want to have that warm fuzzy feeling inside when you look at the bridesmaids and groomsmen standing next to you… not thinking, 'I wish I never asked them!' So, here are our 10 terrific tips for choosing bridesmaids and groomsmen.
Don't ask everyone you know!
Try as hard as you can not to get too caught up in all the excitement. As this might lead to you asking everyone you know and then you spend your entire budget on your bridal party. Take a deep breath and consider everyone who comes to mind carefully. Even make a list of pros and cons if you need too, just to narrow it down to exactly who is important to you. Neither of you want to be caught in a situation where you have to 'fire' someone. This will cause months or years of hostility and awkwardness. Needless to say, very hurt feelings. So don't take this decision lightly.
What do you want from your bridal party?
Think about what you actually want your bridal party to do. Do you just want them to rock up, looking pretty, on the day or do you want tasks to be carried out. If you are looking at the latter, then consider assigning the tasks yourself, but keep everyone's individual personalities in mind. This is so you can trust that the task will actually be done and done well. The bonus is that the person doing it for you will enjoy it. These can be things like shopping for décor, dress and suit fittings, invitation making, decision making, cake tasting, venue viewing and so much more.
Consider your budget
If your budget is unlimited, then go ahead and skip ahead. If it isn't – get the calculator. The bigger the bridal party, the more expensive it will be. The usual spend is dresses, suit hire, flowers and boutonnieres, plus hair and makeup for the girls. On top of that, there are other expenses, like arranging transportation, accommodation, and whiskey and cigars for the guys. If you have three bridesmaids, they'll fit in one car. If you have seven, you're now paying for two cars. Double that for a large party of groomsmen. In addition, it's customary to give gifts to everyone. You could be buying seven gifts… or 14. Are you getting the picture of how easily the costs could add up? Be smart with your money – weddings are expensive, no matter how big or small you plan them.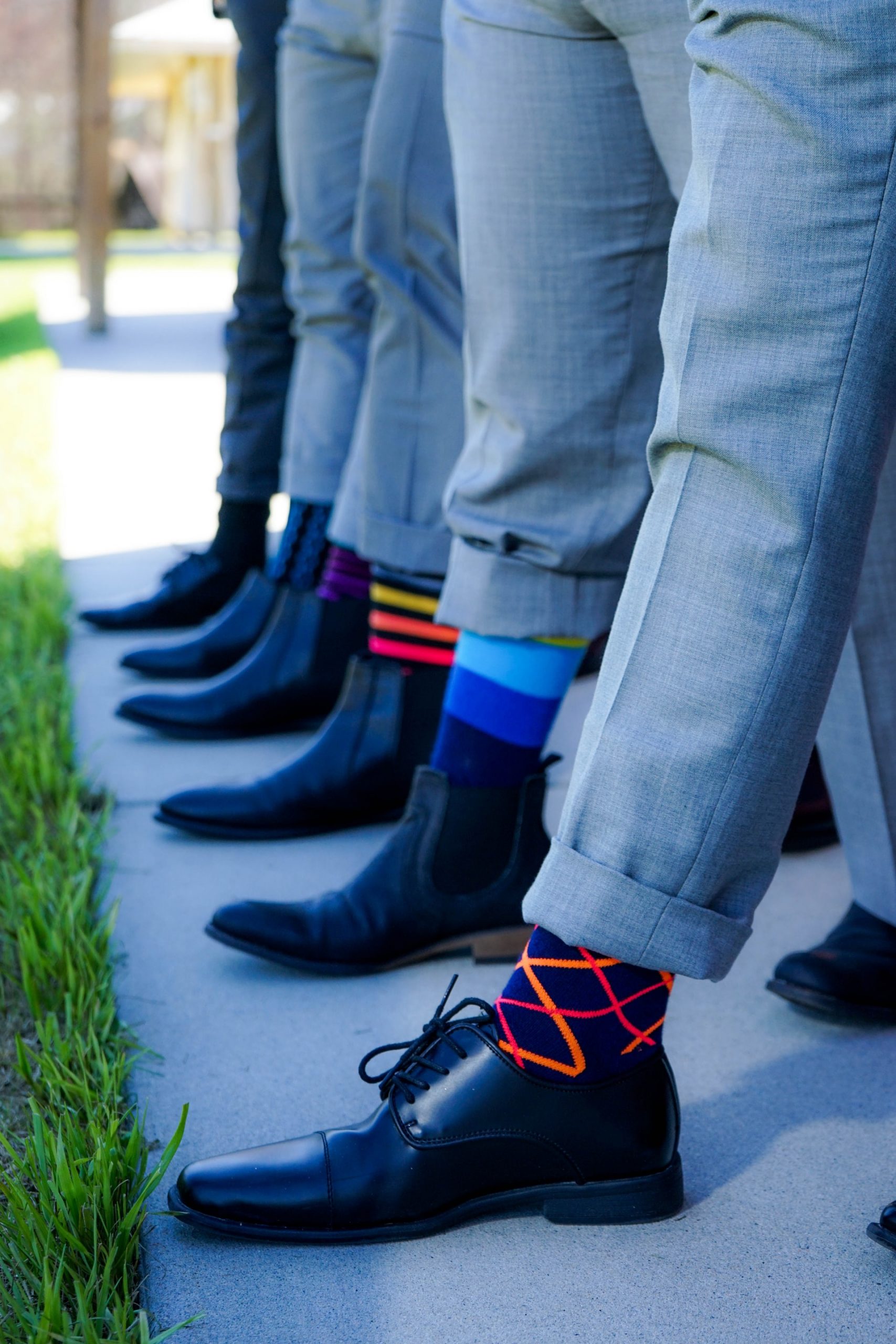 Long distance bridal parties
It happens a lot nowadays – the only person worthy of being a maid of honour or best man lives in another city, another country, or even another continent. You could have a MOH who lives in Canada. Now, consider the challenges, the time difference, the excessive emailing, calling, texting ideas and considerations, how do you do a dress fitting, a suit fitting, how do they plan your hen or stag night?!?! It can be done, but can also be difficult, for them and for you. So either, they keep the title but you tell them they don't need to do anything as it is difficult being so far away or maybe you don't include them in a 'position of power' and explain to them you want them to be, but they can't do anything, OR your patience levels just have to grow exponentially to accommodate a lot of drawn out decision making.
The groomsmen
Has the groom picked his guys yet? He'll be needing some dependable people by his side too. His best mate may be a winner in all the guy things they do together, but… is he also a prankster who'll make the stag party as humiliating as possible? And shave off his eyebrows? Give your guy a gentle nudge about who to ask. He'll need a real friend to give him a hand – someone who'll return the suits on time on his behalf. Someone who'll call the limo company when they're late for church. You know what we're talking about – upstanding citizens of the male population, not just barely upstanding citizens propping up the bar.
Remember there aren't rules.
Call him the man of honour and her the best woman. Guys can stand with the bride and women can stand with the groom. It's really up to you—what's most important is you include your favourite people, regardless of gender.
There are no hard-and-fast rules about how to dress them. You can dress your grooms women in tuxedos or dresses and your brides men can look just like the groomsmen or they can match their suits to the bridesmaid dresses. Just make sure they're comfortable with whatever you want them to wear.
Don't ask someone just because they asked you.
Weddings are no time for quid pro quo. You don't need to ask someone to be in your wedding because they asked you to be in their wedding. Don't ask the college roommate you haven't spoken to in five years just to return the favour.
If they want to talk to you about why they aren't in your wedding, be completely honest. Explain that it was a tough decision but you really felt like you should have the people you feel closest to at this point in your life standing up for you, and there are so many of those people (including him or her) that you had to leave out some very special ones.
Research other roles.
You might need ushers to lead the guests to their seats at the ceremony, plus a few people to light candles and distribute programs. But there are a lot of other options as well. Maybe you have a musically inclined friend who would love to play something at the reception. Or what about that friend who is an amazing writer? Have them write a poem or meaningful message to share at your ceremony.
Think twice before offering your friends obscure, not-so-needed positions, like guest book attendant. (Would you want to do that?) Most people would be happier with a VIP corsage and a reserved seat at the ceremony.
Kids aren't required.
If there aren't any children either of you feel particularly close to, you don't need a flower girl and/or ring bearer. And if you have many children you want to include, feel free. Have three little flower girls instead of one and give them each their own basket of flower petals (boys might enjoy throwing flower petals too!). Or have your two little ones walk down the aisle as pages. They can bear the ring, hold a keepsake or carry a "Here Comes the Bride" sign.
Having an adults-only wedding? You can still have kids play their roles at the ceremony and not allow them at the reception. If you do that, consider setting up a room for kids with a babysitter during the reception and have some fun foods and activities planned.
Get that checklist
Find a detailed wedding checklist – something you'll be using a lot for the next few months. Does it look like a big job? Maybe, but you don't have to do it all yourself! Read the list like a boss and ask yourself – what can you delegate to other people? And more importantly, can you count on your bridal party to help you with these things? Being in the bridal party means much more than just looking pretty. In fact, there are quite a few things the bridesmaids and groomsman could do for you on the day itself. So when you see plainly in front of you what needs to be done, you'll get how important it is to have helpful and dependable people by your side.
Most importantly though, do not forget to have fun. Not only on your wedding day, but during the planning process as well. The day is about bringing people together in love and harmony to celebrate this big and beautiful commitment that you have decided to take. We wish you all the best for your special day!
Extracts taken from weddingsonline blog and theknot.com
Top tips on planning your wedding
Planning your own wedding is difficult, and emotions tend to get in the way of good judgement and decisions . There is no magical formula or exact science. At Buhle Estate we have many years of professional experience, we would like to share a list of our top 10 tips of don'ts
Here they are:
Don't think that you are going to create something better than anyone else

Don't arrange your own flowers or bake your own cake. There are too many things for you to do on your special day, what is something you do with ease on any normal day just tips the scales on your wedding day ends up being a disaster

Don't hire a family member to be your photographer or any other service provider for that matter, 9 times out of 10 it ends in tears, or a row. It is way easier when paying someone to give instructions

Don't ask too many people for their opinions, they bring their own personal choices into the equation and you lose focus of your own style.

Don't be obligated to choose your bridal party or guest list on previous invitations, just because you were bridesmaid or invited by a cousin to a wedding , does not mean you have to reciprocate, circumstance is very personal

Don't rely on the weather to be perfect, it does not make or break a wedding. Always have back up plans. It's the one thing you have no control over.

Don't follow trends and fashion, be true to yourself and create a day that epitomises who you are.

Don't forget to hydrate & eat, the day is long, adrenalin runs high, you need to keep your mood and energy going. Water and healthy snacks are not going to split the seams on your outfit, but your sugar levels will be stable and you will have an amazing day.

Don't try to control everyone and everything. Just breathe……..and let the day run its path. Worrying will create stress, stress uses energy, the day will flash past in a blur and you won't remember a thing. Choose your help wisely, then let go.

There is nothing greater than love and commitment, don't try t make the day anything bigger than that, after all that is what the rest of your life together is all about.
Buhle Country Estate
Farm 10 of Kensington,
Bishopstowe
Pietermaritzburg, 3201
033 004 0049 | 072 807 3907